Crew of R2 reports using sattelite phone.
Hello on Saturday! It is the 4th day since we have left Las Palmas on our way across the Atlantic!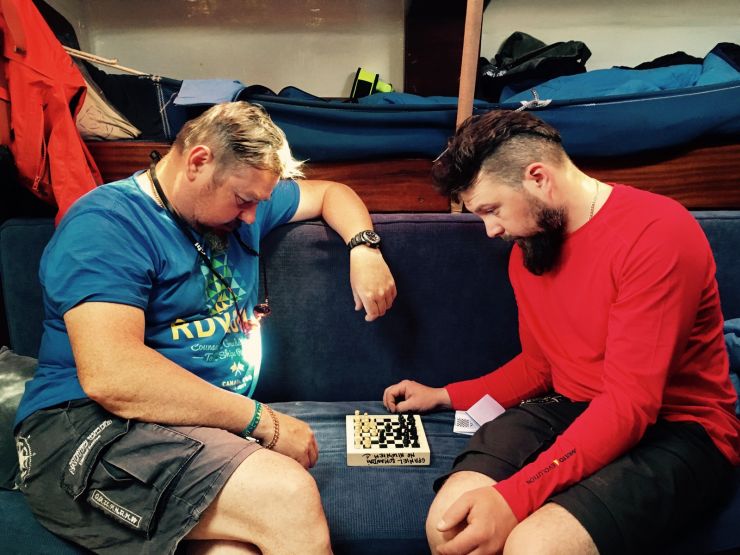 Right now Reinis is serving us, as we call it a "light lunch" - ocean burgers from slightly marinated pork with grain bread covered with different sauces and caramelized onions. As you might guessed, canned food is still hidden far below the floor and we can't complain about some kind of home food we are missing.
At 11:00 UTC we have exactly 2200 NM left to the finish. 445 NM behind since the start line.
Our current position on May 13th at 13:34 : 22*25'N 025*04'W. Two latest double digit speed records belong to Andris -10,7kts and Reinis -10,9kts.
There are other activities beside the sailing. Yesterday was the start of cards tournament. Participants - Libca, Barmens, Nilsons, Grinch (aka Reinis)un Adndrizzz. Playing for the steering minutes. Results so far:
Libca +52 minutes (oligarch)
Andris +4
Reinis -4
Nils -7
Barmens -45
Friday was the shower day ( to remind, SPANIEL is no equipped with the shower). We used our "jaccuzzi" for this purpose also using the water from the water purifier which has been nicknamed Johnny the moaner. He lives in the back storage and Liga is already seeing some dreams with its unusual soundtrack. Instead of 5,6 l/hour it produces around 5, but it's ok and we are more than satisfied with the quality of the water. Thanks to Gandrs!
Actually yesterday we were almost lucky with fishing. Some fish, probably a small size tuna decided to taste Libca's bait. All of the crew was already on the deck with cameras, however after few minutes of struggle the fish got away. Have to mention that it all happened at 9.6 kts of speed and that is how we explain a slight damage to the fishing reel. Despite that his morning some of us saw the flying fish. Finally!

Yesterday was also the first movies evening. The choice was for the movie "Kon Tiki" about the first cross Pacific expedition to Polinesia by Thor Heyerdahl. Some of us alse read a book about the RA voyage across the Atlantic and see many similarities with our trip.

In short words - days are sunny and warm. Full moon at night. Last night we saw the Southern cross for the first time. Nothing to add, nothing to take!

7 feet for us and lots of sun to you!

---