May 4th, 19:40UTC: 31*25'41N 013*15'64W; cog210*, sog6.7kts, dst224.4Nm,twa70*tws10kts
Our celebration feeling - putting on the white table cloth to celebrate not only the regaining of Latvia's independence, but also a birthday of our Captain for R2 from Las Palmas to Bermuda. BArmen! Hip-hip- hurray! (x3).
Otherwise everything is excellent - today we have been sailing close to the wind with average speed of ~6.5kts. According to race results, we are 5th overall. Mood of the crew is good and everyone enjoys the German system -everyone has a chance to have sunsets, dogwatches and sunrises. Yesterday - May 3rd, we had almost no wind for most of the day. Libcha prepared his fishing tackle and someone (who he still promises to find) tore the line with the new lure. So now we are minus 23€. Sintija is still sewing genoa1 ( she still says there is very little left to do), but Andris was making photos of a small birdie who decided to land not only on SPANIEL, but also on Sintija's arm. The rest of the crew enjoyed their no wind time different ways - Aldis is shooting videos, Liga is reading and studying about hurricanes, Muris is planning and checking (that suits for a captain), but Reinis is leading a TRX training in the front of the boat joined by Nils and Ilona.
Greetings from R2!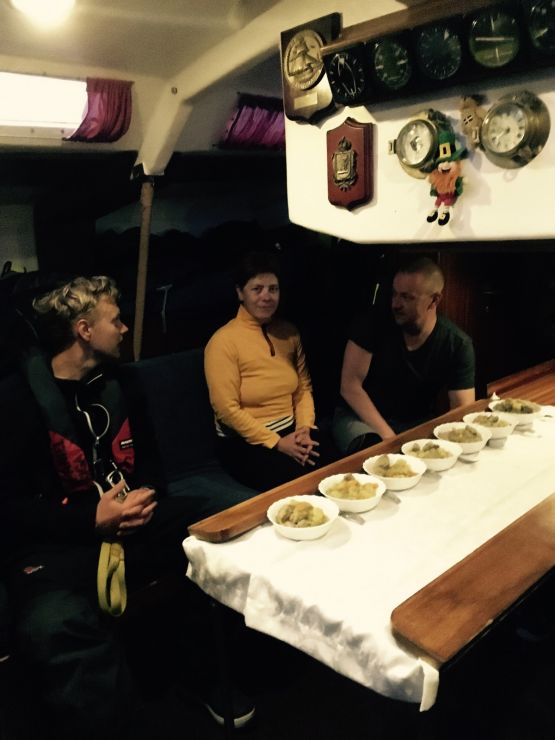 ---