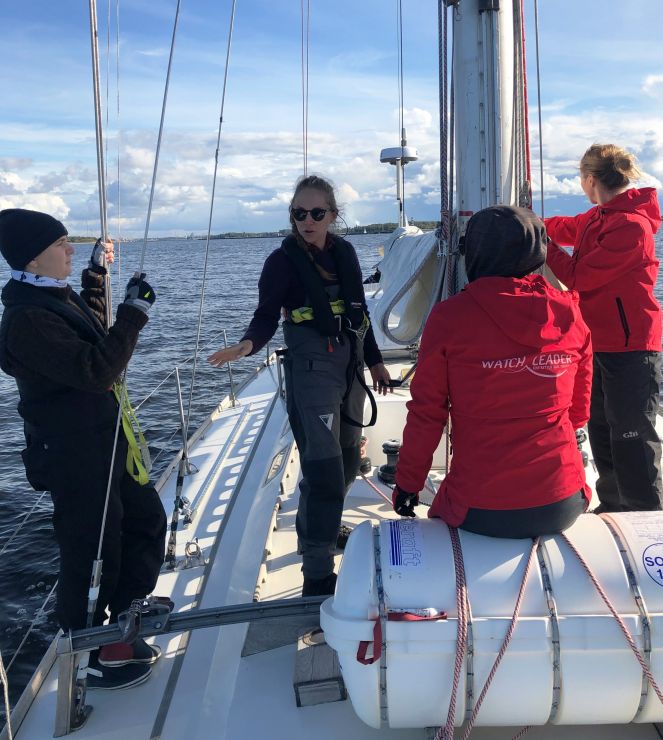 Savu apmācību progresu vari reģistrēt, atzīmējot apgūtās iemaņas
Watch Leader training program on s/y Spaniel, training modules and plan
General terms
Skipper is the Master on board appointed for specific voyage by the Board of Sail Training Association Latvia. Skipper has authority at all times to make decisions with regard to the safety of the vessel and the persons on board. The Skipper has ultimate responsibility for the safe navigation of the ship and the prevention of marine pollution.
Mates will carry out watch leader duties, they will follow the skippers instructions. Their day to day responsibilities will be watch-keeping, inspections, and assisting in the general safe running of the boat.
Watch Leaders training is performed by experienced skipper having a qualification of Yacht Captain or Ocean – going Captain. WL training progarmme is developed in separate modules, each module shall be assessed and documentated in WL Training Log.
Preparing for passage, possible duties on shore:
1) Navigation, charts, Way Points, harbor information
Preparing of paper charts for passage area, (general and detailed), check chartplotter charts availability
Put a general course, routes and way points on paper chart and on the chart plotter, GPS and other navigational aids, identify possible danger areas
Gather all necessary information about planned ports' services, communication channels, depths, currents, tides, navigational lights and signs, guidelines, recommended berthing places, etc, consider additional harbors of the area
prepare passage plan, considering distances, weather forecasts, currents, tides, crew skills and crew capability, including time on the shore
2) Weather forecasts
Check no less than 3 sources of short and long term weather forecasts, compare them, get GRIB files
3) Provisions, food, MENU
Survey of crew about their food preferences and restrictions
Planning approximate meal plan, considering weather forecasts and food preparing possibilities
revision of existing food reserves
calculating of necessary amount of food to be purchased
food shopping plan, involving of the crew
4) Technical check of the boat before the passage, according to checklist
5) Navigation and communication equipment, how to switch it on and off. Electric power systems, including shore based connection to 220V power connection
Duties of Watch Leadersduring passages:
1) following of navigational tasks, keeping the steering course during their watch
2) meteorological observations
3) work with chartplotter, GPS, Ipad, records oflogbook,
4) following safety requirements (responsibility for their watch), MOB maneuvres, ability collect GRAB BAG components, knowledge about use of signal flares
5) Communication skills on WHF radio, etc
6) Selection and change of sails, sail trimming, reefing, setting of trisail
7) main principles of electricity systems of the boat, battery and generator;operation and maintenance
8) Diesel engine controls, starting, testing before putting to sea and stopping, incl. emergency stopping. Engine check, following of engine oil level, fuel indicators, cleaning of different filters and change of spare parts. General principles of engine maintenance
9) Filling water tanks, switches of water supply system, WC system maintenance
10) COLREG, analising of collision threats, actions to avoid collision, work with radar, AIS system.
11) Maneuvers of leaving and approaching the berth under engine or under sails, towing principles
12) Anchoring, anchor knots
enkura piesiešana, izmešana, pacelšana
13) Bilge water pumps, use and maintenance
Repairingworks of yacht and preparing for the season
preparing the boat for winter, dismantling ofyacht parts
engine preparing for winter season
main tools and main principles of repairing works
safety and main principles of yacht lifting
Additional skills:
1) Steering of the boat in different or difficult conditions, on big waves, strong weather, no wind situation, on currents or tides
2) pilotage, naviagation using bearings, using radar
3) actions in the case of insurance
4) documnetation of the boat, filling the crew list, races papers
5) analysing the cases near mises
6) sail training of crew members, individual progress plan, goals
7) soft skills
Sail training of beginners (rookies):
1) Safety instructions - Safety briefing, main principles. Safe movement on deck. Position of safety equipment, principle of use, life vests and safety harneses, personal adjustment, general rules of application, MOB instructions, use of emergency plot
2) Terminology of parts of yacht hull, takling and equipment. Use of separate takles and connected winches, safety precautions.
3) sails, winches, ropes, lines, folding of sails, attaching sails to the deck
4) navigation and communication equipment, switching it on and off
5) basic chartwork, latitude and longitude, chart symbols, fixing of position
6) chartplotter, logbook
7) household instructions
8) fire safety instructions, pumping of bilge water
9) basic of COLREG
10) knots, fenders